I'm enthralled with Rob Williams the creator of Psych-K.
Here is an easy and simple way to change our beliefs at the Root Level.
Check out Psychological Kinesiology
This process is as powerful done long distance, or in person.
We CAN change our DNA by changing our beliefs.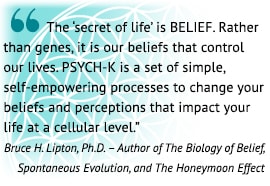 Please reach out, as I'm here to help you in person, or from the comfort of your own home!